BOGOTA, COLOMBIA (12 DECEMBER 2019). UNESCO has inscribed Silat of Malaysia in the Representative List on Intangible Cultural Heritage of Humanity, in its 14th Session of the Intergovernmental Committee for the Safeguarding of the Intangible Cultural Heritage meeting in Bogota, Colombia.
Mr. Mesran Mohd Yusop, Director General/Commissioner of Heritage of Department of National Heritage led the Malaysian delegation in the meeting. Also presented were Director of Intangible Cultural Heritage Division, Mr. Khalid Bin Syed Ali; Director of World Heritage Division, Mr. Mohd Syahrin Abdullah; Deputy Permanent Delegate of Malaysia to UNESCO Paris, Mrs. Zuraini Abidin; and representatives from Persekutuan Silat Kebangsaan Malaysia (PESAKA) led by its President, Tan Sri Haji Mohd Ali Rustam.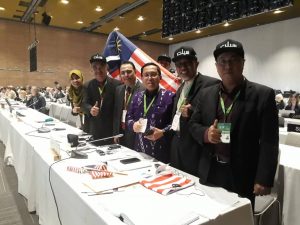 Silat is a combative art of self-defence and survival rooted from the Malay Archipelago. It was traced as early as the Langkasuka Kingdom (2nd century CE) till the reign of the Melaka Sultanate era (13th century). Steep in its symbolism and virtue, Silat is well known to instil great humanistic value that is needed by youth today.
Silat has always been part of the cultural fabric of Malaysia and safeguarding the art as an intangible cultural heritage is significant especially in the younger generation to instil their identity and love for the country while promoting unity, mutual respect and self-discipline. The recognition by UNESCO is indeed timely with the Minister of Education Malaysia who is also the President of Malaysian National Commission for UNESCO, Dr. Maszlee Malik's plan to make Silat a co-curriculum subject in all schools as well for TVET institutions and Universities in Malaysia.