Signing Ceremony Of The 3rd Supplementary Agreement On Malaysia-Unesco Cooperation Programme (MUCP)
12 February 2020, Putrajaya – Collaborative partnership between Malaysia and UNESCO in enhancing South-South Cooperation continues through the Third Supplementary Agreement on the Malaysian-UNESCO Cooperation Programme (MUCP). The agreement was signed by Dato' Dr. Mohd. Gazali Abas, Secretary-General of Ministry of Education Malaysia & Vice-President of the Malaysian National Commission for UNESCO representing the Government of Malaysia, and Professor Shahbaz Khan, Director of UNESCO Regional Office in Jakarta representing the UN Agency. The agreement extends collaboration between Malaysia and UNESCO in promoting South-South cooperation to enhance and strengthen institutions, while enabling mobility of experts between the Asia and Pacific region and Africa.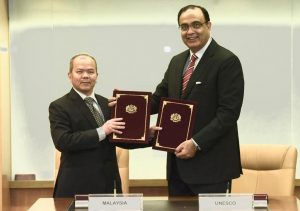 The partnership began when both parties entered into an MoU on Cooperation in Education, the Sciences, Culture, Communication and Information on 15 November 2011 which laid the foundation for cooperation between both parties through MUCP. The MoU was then followed by the Agreement on Malaysia-UNESCO Funds-In-Trust (MFIT) signed in April 2013 to operationalised the MUCP. A series of supplementary agreement were signed to extend the period of MUCP to allow all projects under the cooperation framework to be completed while optimising the resources. The first extension agreement was signed on 25 April 2017 to extend the programme until June 2019 followed by a second supplementary agreement setting the timeline until December 2019 and the third and latest supplementary agreement will extend the cooperation until 31 December 2020.
Thus far, 36 projects have been approved by the MUCP-MFIT Steering Committee with 33 projects have been completed while the remaining 3 are still on-going and scheduled for completion by 31 December 2020.