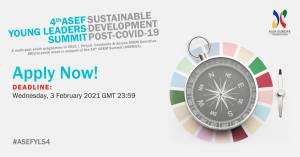 Malaysian National Commission for UNESCO (MNCU) is pleased to announce that the application for 4th ASEF Young Leaders Summit is now open. The focus for 4th ASEFYLS  is on 'Sustainable Development in a post-COVID-19 World' with a particular emphasis on SDG3: Good Health & Wellbeing, SDG4 – Quality Education, SDG8 – Decent Work & Economic Growth, and SDG13 – Climate Action.
It is a 10-months youth leadership program that include three phases Knowledge Building (22 Feb-28 May 2021, virtual); Youth Summit at the 13th ASEM Summit (29 May – 2 June 2021,on site in Cambodia/ virtual); and Leadership in Action (June-Nov 2021, virtual/on-site in local ASEM communities).
The application is open to students and young professionals. The deadline for application is on Wednesday, 3 February 2021 (Wednesday) via online (https://bit.ly/ASEFYLS4_edu).